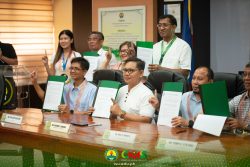 ECHAGUE, ISABELA– – Isabela State University is the new partner of the country's leading authority on research, the Department of Science and Technology- National Research Council of the Philippines (NRCP), in advancing Science and Technology Promotion Services in the countryside.
To formalize the joint venture, ISU signed a partnership agreement with the NRCP on Monday (October 9).
Under the joint agreement, both parties would commit to the implementation and streamlining of NRCP Extension Services, sharing of scientific information, and capacitate stakeholders and academic institutions in research.
The partnership would also foster and enhance the science culture across the region and establish linkages to promote breakthroughs and innovations in the field of research.
An offshoot to this event was the talk show series of the iShare Season 3: Stories of Inspiration. The event will be highlighting the success stories of NRCP Achievement Awardees to students, youth and budding researchers and expand NRCP's reach by harnessing partnership with the secondary schools in the regions.
---
"I-Share in ISU" | October 10, 2023
The National Research Council of the Philippines (NRCP) in partnership with the Isabela State University (ISU) have joined forces in bringing the second episode of iShare Season 3 in Northern Luzon, inspiring the audiences with stories of success in the fields of science and technology.
Participants and students witnessed the testimonies and insights from the featured science experts Dr. Pompe C. Sta Cruz, Achievement Awardee 2022 for Agriculture and Forestry Division, and Dr. Roel R. Suralta, Achievement Awardee 2021 for the same category.
iShare is a video series created by the National Research Council of the Philippines, shedding light on the personal journeys of Filipino scientists, particularly the winners of the Sinag Awards. Through these inspiring stories, the collaboration between DOST, NRCP, and ISU is fostering a brighter and more promising future for the next generation of professionals, experts, and environmentalists in the fields of agriculture and fisheries.
-with Jeanne Matthew Pamintuan, ISU-CMS GIP Correspondent | Images: Solomon Acio, ISU-CMS GIP Correspondent
---
Gallery 1 for NRCP MOA Signing, October 9
Gallery 2 for iShare Day 2, October 10