As climate change brings increasing concern on water-related hazards over the years, academic and research groups from the Philippines, Japan, and Vietnam have undertaken a flood and sediment project for the Asia-Pacific Region.
The project dubbed as "Integrated Flood and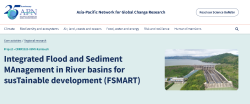 Sediment Management in River Basin for Sustainable Development (FSMART)" has Isabela State University as a member, closely working with the Kyoto University from Japan, and Thuy Loi University in Vietnam.
FSMART would be looking into the impacts brought by climate change and human interventions on reservoir sedimentation, flood inundation, agricultural practices, and river and coastal regions- specifically in the areas of Vu Gia-Thu Bon and the Cagayan River Basins.
As a commitment, Isabela State University has launched the Smart Water Infrastructure Management (SWIM) Research and Development Center in an effort to consolidate water-related research in the University.
At the same time, SWIM R&D sets up a physical facility that would bridge initiatives on water studies in Northern Luzon and the country at large.
Side by side the research center is ISU's counterpart project for FSMART- the Integrated Flood and Water Resources Management in ASEAN River Basins for Sustainable Development (IFWARM), which is funded by DOST- PCIEERD.
Dr. Orlando F. Balderama, ISU Vice President for Research, says these two research undertakings opened the doors for ISU to engage in global water studies.
Balderama notes, "it is an honor that ISU will get to join our partners and lined agencies in fronting pertinent water research results not only for the country but also for the Asia-Pacific Region".
"But I think the greater honor is to be able to help and empower communities with sound decisions and policy-making to do away with the water hazards that had been ravaging the country", the Vice President added.
ISU's SWIM R&D has recently been recognized by DOST as a Niche Centers in the Regions for R&D (NICER) for Region 02. (GZ/BJC/JF-UMIS-CMS)
——–
Reference: Asia-Pacific Network for Global Change Research | apn-gcr.org | https://bit.ly/3L17P48
Visit FSMART, here: https://www.ifsm-ku.com/