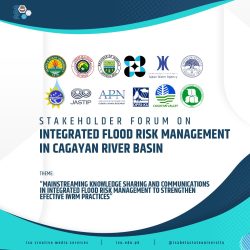 Isabela State University convenes government agencies and international academic partners from Japan in the Stakeholders Forum on Integrated Flood Risk Management in Cagayan River Basin, July 14.
The forum aims to strengthen the capacities of policy makers, managers, and practitioners of river basin organizations on flood management through knowledge sharing of new approaches, techniques, methodologies, and good practices from partners here and abroad.
WRAP UP: Day 1 of International Stakeholders Forum | The first day of the International Stakeholders Forum highlights the signing of the Memorandum of Agreement between Japan Water Agency and the Cagayan River Basin Management Council with ISU, Kyoto University and the Provincial Government of Isabela in the line to strengthen collaboration in fostering integrated water management practices.
The first day also covered the official commencement of the forum proper with Mr. Akinobu Nishida of Japan Water Agency (JWA), Professor Tetsuya Sumi of JASTIP, Dr. Enrico C. Paringit of DOST-PCIEERD, Professor Sameh Ahmed Kantoush of Kyoto University, Dr. Lanie A. Alejo of ISU Water R&D, and Mr. Kazumi Sasaki of JWA.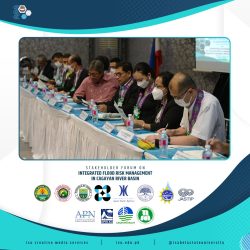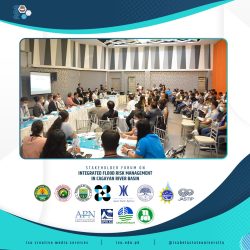 UPDATES
DAY 2: Stakeholders Forum (July 15) | The International Stakeholders Forum on Integrated Flood Risk Management in Cagayan River Basin continues with the presentation of reports and updates from regional offices of Department of Public Works and Highways, National Irrigation Authority, and Department of Environment and Natural Resources.
Afterwhich, Professor Sameh Ahmed Kantoush of Kyoto University and Mr. Tadahiro Fukuda of Nippon Koel Co., Ltd. presented some proposed measures for Magat Reservoir Rehabilitation which include technical feasibility and institutional arrangements.
Meanwhile, Professor Guillermo Q. Tabios III presented the Philippine Water Resources Management Plan, which introduces the integrated water and coastal resources management, a water management approach that takes into account the effects of soil erosion to river shallowing, and eventually sediments being deposited to the coasts.
The open forum revealed some plans to strengthen coordinating measures within the council, and further boost the "whole-of-government" to translate academic and scientific outputs into policy development.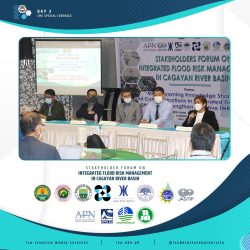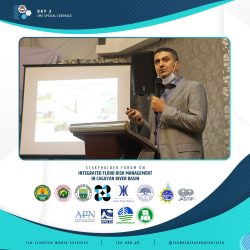 UPDATES
DAY 3: Stakeholders Forum (July 16) | Earlier this morning (July 16), Isabela State University formally unveiled the physical office for the International Organization on Climate Change Adaptation and Disaster Risk Reduction Management Inc.
The international office would serve as the headquarters of the organization's operation in the Philippines. The group also looks to the establishment of similar facilities in Japan and Taiwan to consolidate efforts on the campaign.
The inauguration is part of the 3 day activity on the International Stakeholders Forum on Integrated Flood Risk Management in the Cagayan River Basin. This afternoon, participants will be touring at the NIA-DRD Forecasting Center, upstream sites, sedimentation monitoring station, and the Magat Dam.
Highlight of the afternoon session would be the signing of memorandum of understanding between the City Government of Santiago and the Japan Water Agency.