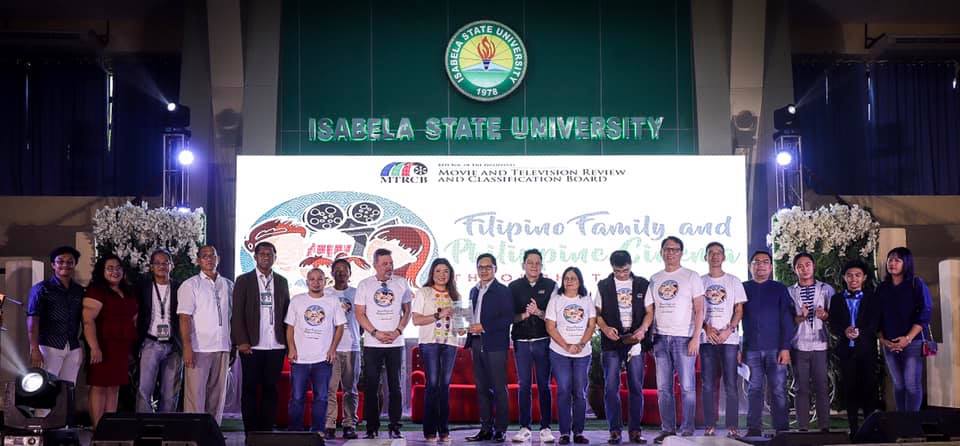 ECHAGUE, ISABELA– Dubbed as "First-ever in Northern Luzon", Isabela State University housed this year's third leg of 7 th Family and Child Summit of Movie and Television Review and Classification Board (MTRCB), Friday (November 8).
The event aimed to promote responsible viewership, and reflect Filipino values and family portrayals in Philippine cinema through the years. It also served as an avenue to honor local filmmakers who have contributed to the industry.
About 2000 ISUans of different campuses of the university system were immersed on different lecture series from notable resource persons, including consultant at National Commission for Culture and the Arts (NCCA) Prof. Arvin Villalon; "Bambanti" Director, Zig Dulay; and director of "Pitong Kabang Palay", Maricel Cariaga.
Cariaga's masterpiece, featuring the situation of country-side farming, was viewed.
Dulay shared his inspiration of coming-up with "Bambanti", a film depicting how social status can affect justice system- which was starred by Alessandra de Rosi.
Both Dulay and Cariaga were natives of Isabela.
In a speech, University President Dr. Ricmar Aquino emphasized the importance of parental guidance on children watching. "What someone see or hear often would one day become acceptable and become norm", the President remarked on the projected mainstream concepts of television.
Dr. Aquino then exclaimed, "I am very thankful to the MTRCB for involving us in helping preserve the [aged] values of the Filipino family, and in upholding the rights, welfare and protection of a child".
Meanwhile, MTRCB Chairperson Ms. Rachel Arenas assured "public access to age appropriate content.
We are conscious in raising awareness on our core values that constitute our identity as a Filipino nation".
The Chairperson also expressed her gratitude on the support of the university in its goals, saying "we will never forget this event here in ISU".
"Sana, this will not be our last time here in Isabela. Definitely, babalik at babalik po kami", Arenas added.