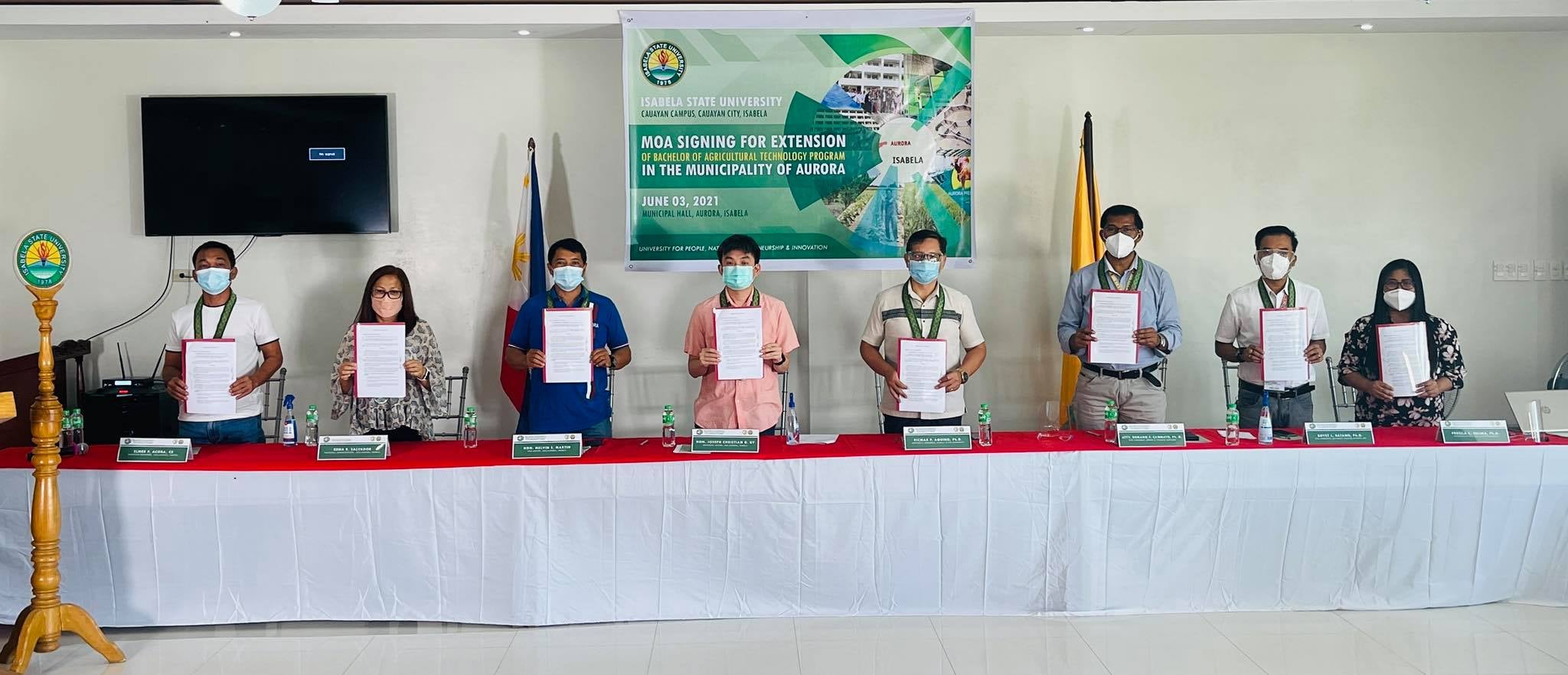 Isabela State University (ISU) officially partnered with the Local Government Unit of Aurora after a MOA Signing on Thursday (June 3) for the extension of Bachelor of Agricultural Technology (BAT) Program thru ISU-Cauayan Campus.
The extension program aims to reach more learners of Senior High Schools in Aurora and the nearby municipalities and provinces like Kalinga and Ifugao who are interested to enroll in the agriculture programs of ISU.
This would also provide additional experimental area, demo farms, and integrated learning sites as land expansion is being eyed to accommodate the extension program.
As a counterpart, LGU Aurora forged an agreement with the Department of Education for the temporary use of one building with 20 classrooms for a year or two, which will be converted to house mini-library, laboratories, conference hall, faculty room, conference room and others for the program's initial operations.
The local government has also appropriated 10 Million Pesos for the purchase of a two-hectare lot for Cauayan campus site, with additional two hectares for its demo farm.
In an interview with Dr. Precy Delima, Campus Executive Officer of ISU-Cauayan Campus, part of the extension program's Way Forward is the realization of an Extension Campus for the said municipality.
"That is very possible in the near future. But we would like to explore the BAT program first and its related courses since the mantra of the extension campus is 'University within the Industry'", Dr. Delima said.
ISU is also set to reinforce the calamansi industry of Aurora, which named the municipality as the "Calamansi Capital", to make it as their One Town, One Product (OTOP).
University President Dr. Ricmar P. Aquino opened to LGU Mayor Joseph Christian G. Uy the establishment of a promising Calamansi Product Development Center.
The proposed center will be supported by the ISU-Food Innovation Center (FiC), and will be serving as an extension modality of FiC personnel for the constituents of Aurora, as well as learning center for BAT students in developing their entrepreneurial skills.
According to Dr. Delima, preparations for the proposal is underway for the provision of facilities and equipment. (JF/GZ/BJC-UMIS-CMS)