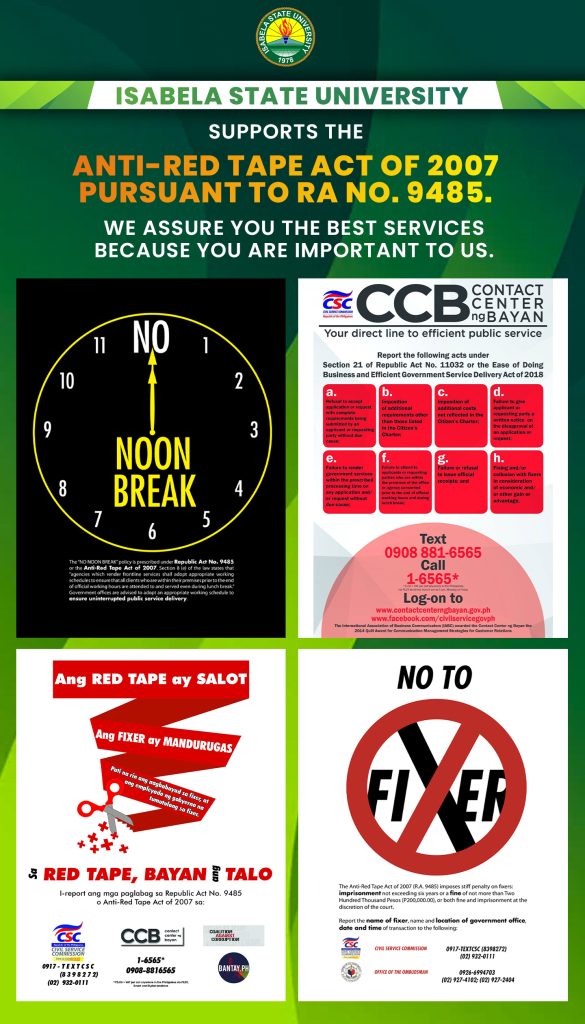 Isabela State University ensures that its services are marked with efficiency and transparency adhering to quality standards for public service.
As a State University, ISU recognizes its accountability and duties with the highest standards of responsibility, competence, loyalty, patriotism, and justice.
With an unequivocal stance against any form of graft and corruption, Isabela State University leaves no room for ambiguity. The directive is clear, and all personnel are mandated to uphold the following in unwavering commitment: Republic Act (RA) No. 3019, the Anti-Graft and Corrupt Practices Act, and its accompanying Implementing Rules and Regulations (IRR). RA No. 11032, known as The Ease of Doing Business and Efficient Government Service Delivery Act of 2018, and its IRR. RA No. 6713, often referred to as the Code of Conduct and Ethical Standards for Public Officials and Employees. Section 65 of RA 9184, the "Government Procurement Reform Act."
In addition, all other relevant laws, rules, and regulations impose penalties on public officials who engage in corruption and bribery, including Articles 210 to 212 of the Revised Penal Code of the Philippines. For the community of Isabela State University, this commitment is not merely a directive; it is a pledge.
Every member of the ISU community commits to embody the core values of the University. At ISU, the battle against graft and corruption is not a mere policy; it is a way of life- as part of our unwavering commitment to uphold the public's trust and to serve with honor, dedication, and unwavering fidelity to the principles of good governance.