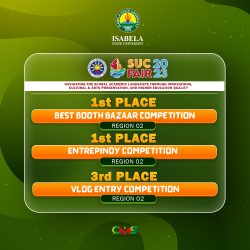 Representing the pride and honor of state universities and colleges (SUCs) in the Cagayan Valley Region, Isabela State University brings home 3 major awards from this year's conduct of the SUC Fair, the country's largest gathering of higher education institutions.
Two championship titles were clinched by Region 2 for the Best Booth and Bazaar Competition and EntrePinoy Competition.
Bannering the theme "Paravulunan" (Pagtutulungan; translates to as "helping/supporting each other"), the Region 2 Booth showcases the products and festival attires of SUCs produced through research and extension initiatives. Mr. Ronald Isidro, Isabela State University Cauayan Bachelor of Science Entrepreneurship Program Chair, led the region's team as the coach with his concept of entrepreneurial booth design.
It's a historic feat meanwhile for Earldon Palattao and his team as their classroom project concept for entrepreneurship class caught eyes from the national stage, winning the EntrePinoy Pitching Competition with their "BECO Company".
BECO Company is now a fully operational spin-off company that was launched as part of ISU-Echague's Annual Business Pitch program "EntrepSiklaban" aimed at fostering the entrepreneurial minds and skills of ISUans.
BECO stands for Bamboo Economical and Eco-Friendly Choices, which focuses on harnessing the varieties and properties of bamboo to economical, eco-friendly, and viable products.
The Vlog Entry Competition got Region 2's entry at 3rd place, with a production team comprised of students from the ISU Cauayan Campus. The vlog shows the snip of ISU as a hub for academic excellence in the countryside and its continuing commitment to sustainable development through quality and relevant education.
This year's SUC Fair landed to the rich and vibrant Western Visayas Region, gathering SUCs from the 17 regions of the Philippines in four-day friendly exhibitions from July 10-14. (GZ/BJC/JF-UMIS-CMS)