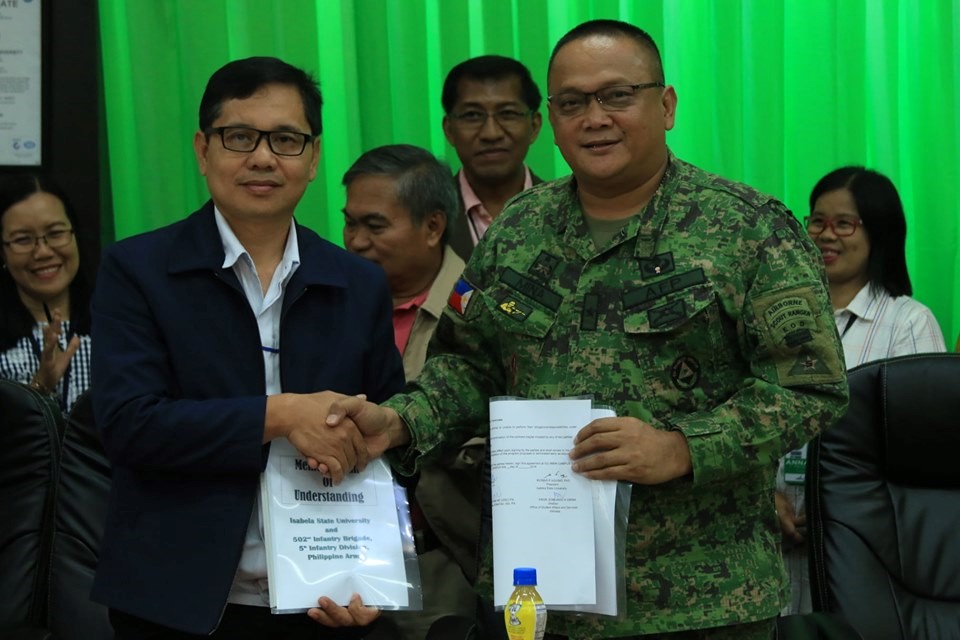 Continuing the efforts of providing capability enhancement, the University forges joint Memorandum of Understanding (MOU) between the 5th Infantry Division of the Philippine Army, together with 5th Civil Military Operation (CMO- Kabalikat) Battalion of the 502nd Division, Philippine Army this afternoon (October 9).
Through the University's Office of Student Affairs and Services, the military can now expand the extensive student leadership empowerment, social and civic sensitivities against Communist Terrorist Groups (CTG) and other related insurgency activities.
This is extended thru the conduct of Youth Leadership Summits which serve as the military's arm for such information drive.
Brigadier General Laurence E. Mina of the 5th Infantry Division called the partnership "convergence", appreciating the academe's participation in the said undertaking. In a speech, he said "ito na ang simula ng nag-iisang [Pilipinas]".
Dr. Ricmar Aquino responded to "make [the] partnership stronger", with the university equally contributing as an institution towards "peace, progress and development".
University Director for Student Affairs and Services, Engr. Edmundo A. Obiña also stressed the importance of refining the youth as he believes "ang kabataan ay ang kinabukasan". In a statement, he said "remember that the key to securing the future starts in the present, and that lies on properly educated, well-mannered, responsible youths of today".
Meanwhile, the College of Arts and Sciences Extension Office re-affirms the commitment with the Kabalikat Battalion on proficiency building, which includes livelihood enhancement, IEC materials development, Data Management and Mental Health Programs.
In a statement, Dr. Helena B. Florendo assures that the university will continuously render services that will enable military personnel in the said areas of agreement.