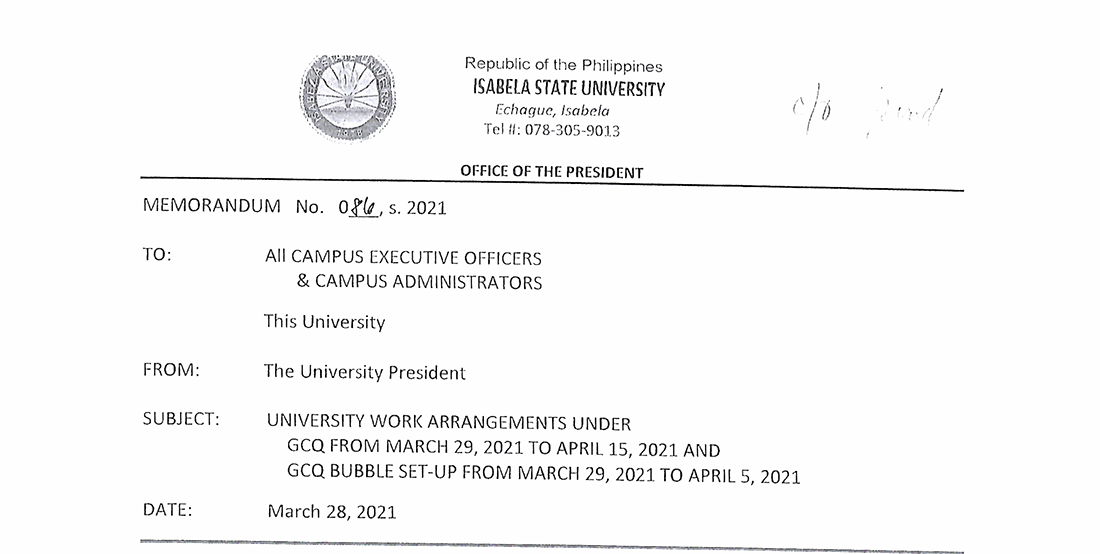 Click the image to view the Memorandum No.: 070 and 086, s. 2021
Instructional and administrative works at Isabela State University have been directed to operate with skeleton workforce as Isabela Capitol places the Province of Isabela under 18-day General Community Quarantine (GCQ) effective this day, March 29 until April 15.
Memorandum no. 86 s. 2021, issued by the Office of the University President earlier this afternoon, enjoins campus executives and administrators to determine reporting schemes of the employees included in the skeleton force.
This is comprised of service personnel from the Finance Services, Administrative Services, General Services, and Health Services. Other offices with urgent concerns, like the Quality Assurance Office (Echague Main Campus), Infrastructure Department, and Procurement Office, shall likewise report, as needed.
All the rest, faculty and non-teaching- either permanent, temporary, including those under Contract-of-Service/Job-Order status- shall be on work-from-home arrangement, and were encouraged to submit their accomplishment reports covering the duration of the alternative work scheme.
From April 6-15, 2021, the University will be implementing 50% operational capacity on all of its offices in conforming to the social distancing protocol of the GCQ status.
Early on March 18, the University has raised its health security measures upon the rising concern on the number of CoViD-19 positive faculty members and employees. The Office of the University President issued Memorandum no. 70 s. 2021, detailing a number of health protocols.
This has enjoined regular disinfection of all buildings every Friday; strict observance in the use of HealthGuard PH, the University's developed contact tracing system; consistent monitoring of the employees' health conditions; and the Face Mask and Face Shield Policy.
Likewise, reporting and documentation of CoViD cases in campuses were advised to be submitted to the Office of the Vice President for Administrative and Finance Services, with VP Romano Cammayo as the Crisis Manager.
In an interview with Bombo Radio Cauayan, University President Dr. Ricmar Aquino ensured the safety and well-being of other campuses, with the strict health measures still imposed. (JF/GZ/BJC-UMIS-CMS)