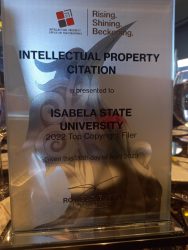 HATS OFF! 🎉 | Isabela State University receives Intellectual Property Citation from the Intellectual Property Office of the Philippines (IPOPhl) as the 2022 Top Copyright Filer.
The award was received by University President Dr. Ricmar P. Aquino during the "Women in IP" Gawad Yamang Isip Awards 2023 earlier this afternoon (April 26) at the Manila Hotel during the culmination of the National Intellectual Property Month 2023.
The University has received similar distinction from IPOPhl during the 2023 Presidential Summit held at Sequioa Hotel, Manila Bay in recognition of ISU's contributions in the fostering of intellectual properties in the academe.
ISU joined other awardees from other institutions in the co untry in recognition of their contributions in the areas of Intellectual Property.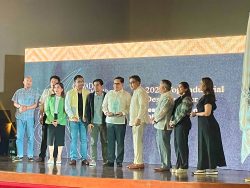 2022 Top Patent Filer was Northern Iloilo State University; Top Utility Model Filer was Cebu Technological University. Top Industrial Design Filer was accorded to the Design Center of the Philippines, while the Top Trademark Filer was AGlobal Care Incorporated.
Progressive Medical Corporation bagged the 2022 Top Madrid Protocol Filer, which according to the European Union, is a type of IPR that gives trademark owners the opportunity to secure trademarks in other countries by filing to their respective IP/trademark offices.
Investing to IP application has been an on-going venture engaged by the University in partnership with the Department of Science and Technology (DOST) and the IPOPhl to reinforce the country's position in the Global Innovation Index.