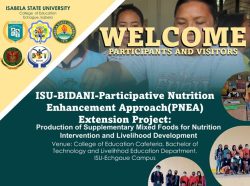 As the number of cases in the pandemic continue to decline, business sectors are gradually reopening. This status is an opportunity of engage people on business opportunities, especially those that are in marginal sector wherein the nature and operation of their work are beyond the reach of government regulations on labor as there are no employer/employee relationship, in purpose of uplifting their economic status.
In the first quarter of December 2021, the BTLEd Faculty with the assistance of the selected BTLEd and MAEd students were able to render a training on supplementary mixed food production. This served as a stepping stone for the people in the community to start establishing their own livelihood based from the products, they were able to produce during the training.
Bachelor of Technology and Livelihood Education (BTLED) is a degree program that aims to train learners not only on quality teacher-education training but also on civic and extension engagement. The program has identified various needs of the community and assessed possible areas where they could interject livelihood activities.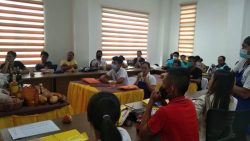 During the exposure of the extensionists in the barangay, they found out that there are is really an extreme need for livelihood assistance. Thus, the extension providers came up with another three major components to sense as a sustainability plan for the people of barangay Salvacion uplift their economic status. The components are respectively: a.) development of supplementary mixed food recipes specifically on products that can be categorized under appetizer, main dish, snack, and beverage; b.) development of home care products specifically soap and detergent products; and, c.) seminar on financial viability. These all, are to be carried by way of rendering seminar training workshop.
---
View Full Terminal Report: Production of Supplementary Mixed Foods