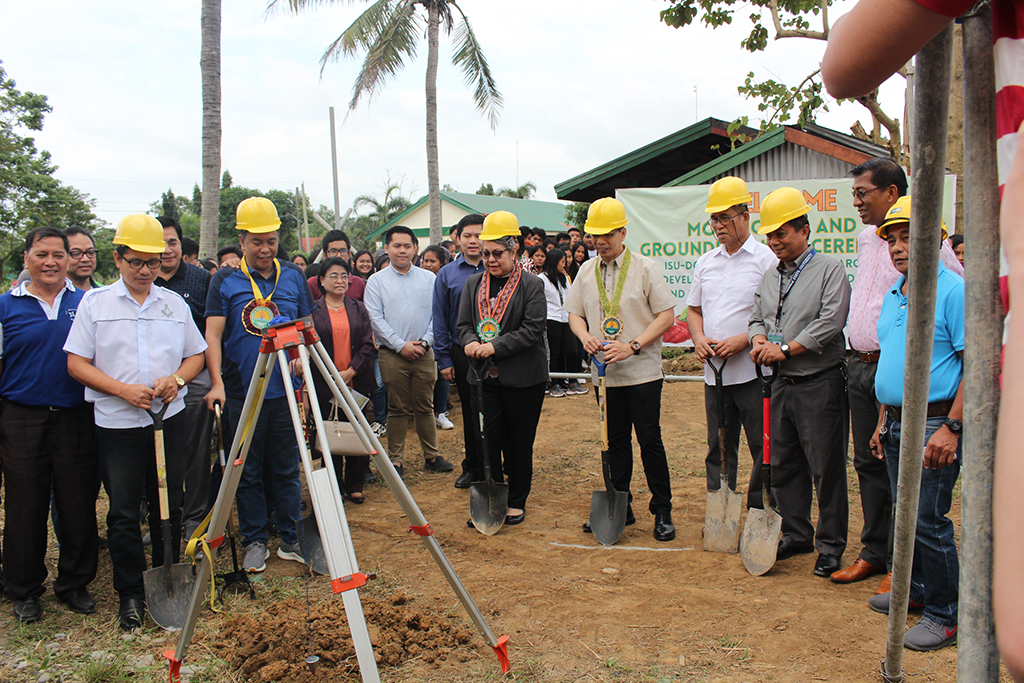 Department of Science and Technology (DOST) Undersecretary Dr. Brenda Manzano, representing Secretary Fortunato dela Peña, has expressed affirmation of the agency's support to its collaboration with ISU and Bauertek Corp in the production and commercialization of herb supplements, Wednesday (January 29).
Usec. Manzano led ceremonial groundbreaking this morning, in view of the construction of storage and processing facility of raw herbal commodities, which is set to be housed at the University's main campus. The facility is through the assistance of Filipino-Chinese Chamber in coordination with former ISU Board of Regents member, Private Sector Representative Mr. Charles T. Lim.
Right after, Dr. Manzano joined University President Dr. Ricmar Aquino, and Bauertek founder Dr. Richard Gomez in the tripartite agreement, taking in effect the initial dialogues on January 14.
About 10-hectare area of the main campus at Echague was allotted as plantation model of "Malunggay". This prototype plantation would be ground for studies regarding plant growth, and measures to expanding the initial land area. Soon, it can be planted with other herbs needed, like turmeric and guyabano.
Malunggay, or the Moringa variety, is commonly used for cosmetic products. But with the project at hand, says Dr. Gomez, it will be looking for the medicinal value.
"However, Turmeric is the real deal", says Bauertek's founder. Dr. Gomez continued, it can be upscaled to global marketing, with raw commodities to be sourced-out in the province. Turmeric grosses top traditional medicine worldwide, and leading herbal supplement ingredient.
ISU will both cater R&D role in maximizing efficiency of herbal commodities, as well as storing and processing them. The outputs will be transferred to Bauertek for laboratory treatments, packaging them for commercialization.
In a statement, Dr. Manzano commits "the agency is in full support" of the undertaking, lauding collab initiatives as "ideal partnership between academe, industry and the government".
She said, "[this] linkage will bolster S&T ecosystem…making it productive". She also applauded University President Ricmar Aquino for prioritizing S&T, saying such commitment would be "adding to the body of knowledge [with] outputs that benefit [the] general people".
DOST-R02 Director Mabborang on the other hand emphasized that the undertaking would also include community empowerment.
Farmers that would be raising and cultivating require commodities can find alternative to traditional farming.  Engr. Mabborang promised, telling Dr. Gomez, "[kapag] nabuo yung business model, [ibabahagi] natin ito sa farmers".
Dr. Gomez confirmed this, that as the field for herbal commodities cultivation grows, the more it gives farmers the access to shift in said alternative farming. As Bauertek founder explained, once the project is rolled-down to community, it will involve participative development in terms of economic viability, especially the farmers.
University President Ricmar Aquino thanked the partner-agencies for involving the institution in the global market of pharmaceutical goods. In his speech, he exclaimed, ISU will do its part with all the technology and resources it has in "[making] everyone productive, para maging number one (1) ang Region 02".
Simultaneous with the talks on herb production, another agreement was forged between the University and the Red Dragon Farm Feed Livestock and Foods Inc.
RDF, the company behind Fresh Options Meat shop, will partner with ISU-Cagayan Valley Small Ruminants Research Center (CVSRRC) Integrated Slaughterhouse and Meat Processing Center under the Technology Business Incubation (TBI) project.
It will make ISU the spot for their North Luzon expansion, that would cater services in the production of processed-meat products particularly pork tocino, pork longganisa, and pork tapa.