Feature Story: DOST-PCAARRD-ISU Livestock Technology Business Incubation (TBI): Enhancing technology TBI program for Agriculture in Region 02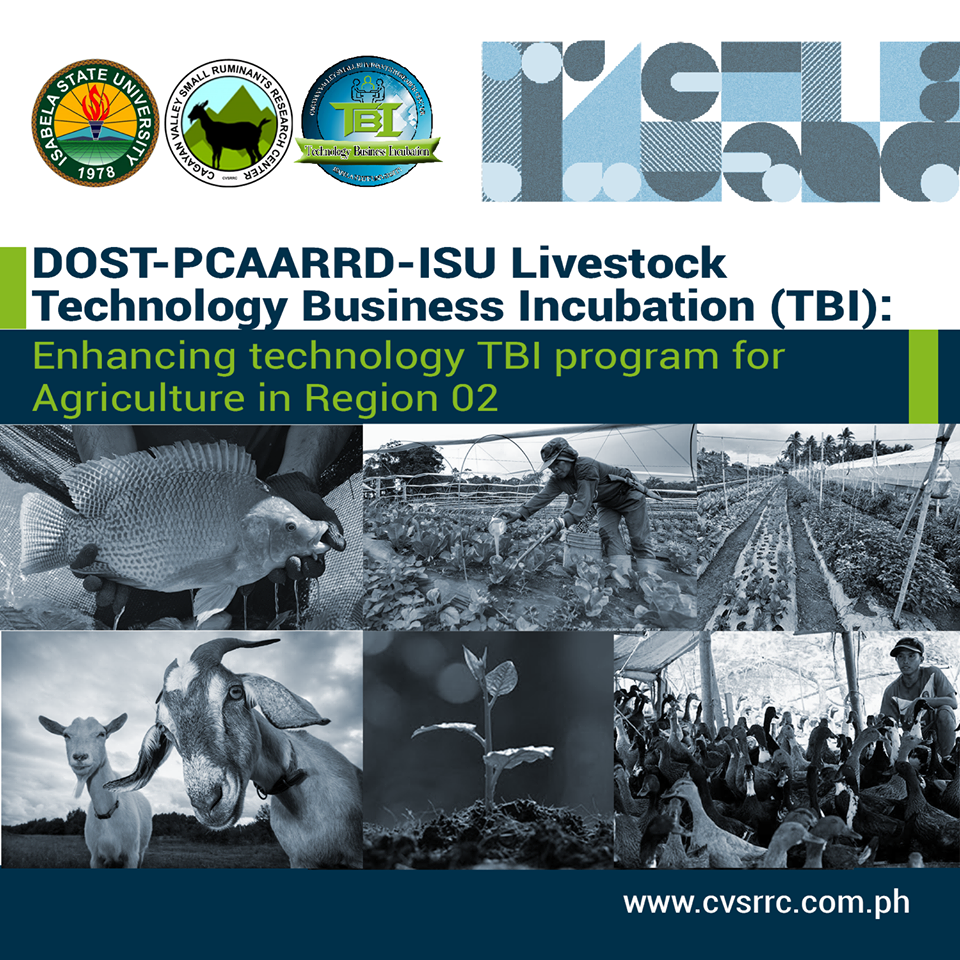 The Department of Science and Technology- Philippine Council for Agriculture, Aquatic and Natural Resources (DOST-PCAARRD) has approved the implementation of TBI Phase 2 project for 2021 to 2023. The incubator is known as DOST-PCAARRD-ISU Livestock TBI.
The Phase 1 of the project was implemented from 2017 to 2020 under the stewardship of Cagayan Valley Small Ruminant Research Center (CVSRRC). Way back 2017, the Board of Regents of the University approved the Implementing Rules and Guidelines of the incubator's operation. The approved document served as operation guide of the incubator. On the same year, partnership with DOST-Region 2 was forged.
Throughout the period of implementation, there were 22 enrollees, wherein 17 of them are already considered graduates of the incubation program.  Other outputs include filing of four (4) trademarks of the enterprise under the incubator (all approved), 13 utility models of the products developed by the incubatees, commercialization of 37 products of the incubatees, generation of additional 99 local employment and commercialization of two (2) goat-related technologies which passed through the Fairness Opinion Board commissioned by the Technology Application and Promotion Institute of DOST.
For the Phase 2 implementation, the project is expected to assist 16 continuing and new incubatees. Hence, aside from goat-related and food processing technologies, the portfolio of the incubator will be revised by adding technologies related to poultry production and post-production (native chicken and duck) and aquaculture production and post-production (tilapia and eel).
Likewise, the services to be offered include basic incubation focusing on nurturing and counseling and advanced incubation highlighting activities to facilitate business growth.
Moreover, it is also expected that intellectual property management will be strengthened by filing trademarks, copyrights and UMs, partnership with agencies will be forged for more efficient incubation, and promotional activities as well as information dissemination campaign will be conducted to reach more incubatees.
In addition, e-commerce platform and digital marketing will be explored in response to the current market trend and to facilitate commercialization of new products.
The DOST-PCAARRD-ISU incubator is one of the 16 university-based incubators across the country supported by DOST and DOST-PCAARRD.
---
Ms. Aubrey Joy Balbin, Biologist II, CVSRRC