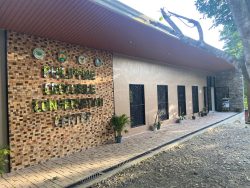 The blessing and inauguration ceremony of the Philippine Crocodile Conservation Center (PCCC) was held on April 19, 2022 at Isabela State University, San Mariano Campus.
This exists as an offshoot of a Tripartite Memorandum of Agreement of the Local Government Unit of San Mariano, the Mabuwaya, Inc., and the Isabela State University, with the support of the Department of Environment and Natural Resources (DENR) and the Department of Tourism (DOT).
The PCCC was blessed by Ref. Fr. Ryan Torralba, celebrant. In his homily, he reminded everyone about care of nature and its inhabitants as one of our greatest responsibilities. This was followed by a tour around and inside the building with the guests from DOT, DENR, Isabela State University (ISU), the Local Government Unit (LGU) of San Mariano, LGU of Baggao through the MENRO Office, the Mabuwaya Foundation's Board of Trustees, Bantay Sanktuwaryo members, the Franciscan Apostolic Sisters in Sta. Ana, Cagayan, and youth performers from Cabagan and San Mariano, faculty and staff, students, and other visitors.
The ceremonial cutting of ribbon was accorded by Hon. Dean Anthony G. Domalanta, Municipal Vice Mayor as representative of Hon. Mayor Edgar T. Go; Dr. Ricmar P. Aquino, University President; Mr. Merlijn Van Weerd, Chief Executive Officer of Mabuwaya Foundation; Dr. Myrna C. Cureg, Chairman of the Mabuwaya Foundation Board of Trustees; Mr. Enrique Pasion, Development Management Officer of the DENR; and Ms. Leila Blancaflor, Tourism Operation Officer of DOT; and Dr. Clarinda C. Galiza, Campus Administrator of ISU, San Mariano.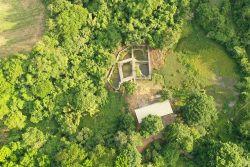 Hon. Domalanta highlighted that Isabela State University has been rendering various academic and economic services and this milestone, he said, would bring the campus advancement in terms of wildlife conservation. Dr. Aquino, emphasized that the establishment of the Philippine Crocodile Conservation Center in the campus recognizes and epitomizes our love and commitment for nature and wildlife species therein, which is enshrined in our advocacy as University of Nature, People, Innovation and Entrepreneurship.
During the program, Mr. Weerd, Chief Executive Officer of the Mabuwaya Foundation, shared during the program how the Philippine Crocodile was rehabilitated. He said, it began in 1999 and was recognized as the world's first community sanctuary in 2001. He also added that the Mabuwaya Foundation is dedicated to preserving and protecting the Philippine crocodile in its natural environment. To promote knowledge of the species and to enhance local engagement in conservation activities, the organization takes a community-based approach.
Dr. Galiza also recognized the hard work of everyone to realize this dream being it a commitment of ISU, LGU San Mariano and the Mabuwaya Foundation to support wildlife conservation towards the stability of nature, ensure survival of this specie, and educate the people about sustainable development. All throughout the construction of the project, she specially mentioned that cooperation of everybody ensured the completion and success of the project which can also bring about the sustainable formation of the students.
The faculty and staff of the campus including other guests from the different agencies see the project to trailblaze in the province and beyond, as this is the first in the entire Philippines. (GZ/BJC/JF-UMIS-CMS with Kristopher R. Lopez, ISU San Mariano Tangguyob Correspondent)