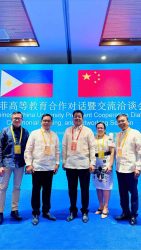 In a significant stride towards strengthening the internationalization of Philippine Higher Education, Isabela State University adds a new cross-border collaboration with Guizhou Minzu University in Guyang, China, as part of the 2023 China-ASEAN Education Cooperation Week (CAECW).
With the new partnership in place, the University, along with other higher education institutions in the Philippines, was now open to establishing academic linkages with counterparts from East Asia, synergizing academic efforts from both regions of the Asia Pacific.
Philippine Commission on Higher Education Chairperson Hon. J. Prospero "Popoy" E. De Vera led 13 Philippine universities for the cross-border venture, including Mariano Marcos State University, University of the Cordilleras, University of Antique, University of the Philippines-Diliman, UP Open University, Jose Rizal University, Lyceum of the Philippines University-Batangas, Bohol Island State University, Mabalacat City College, Panpacific University, University of Perpetual Help System, and World Citi Colleges.
Dr. De Vera's message during the opening session centered on the importance of the internationalization of Philippine higher education institutions in laying the groundwork for the improvement of quality education experiences in the country.
"The Commission has actively encouraged partnerships with foreign universities, facilitating student and faculty exchanges, joint research projects, and collaborative academic programs. By embracing internationalization, indeed, we can enhance the quality of education, expose our students to diverse perspectives, and equip them with the skills necessary to thrive in a globalized society," Chairperson De Vera said.
The Guiyang Declaration that ratified CAECW in 2010 aims to encourage and strengthen academic ventures and dialogues between ASEAN member institutions and China.
This year's plenary talks highlight the cultivation of international youth talents and their contribution to the prosperity and development of the Belt and Road Initiatives.
Sharing the Isabela State University experience, President Ricmar P. Aquino told the session in his talk titled "ISU Towards International Talent Cultivation" that the university has taken aggressive expansion in terms of global linkages to foster an immersive and inclusive academic environment for cultivating international talents.
"We embrace education cooperation to harness an operational blueprint that would beef up our institutional capacity to contribute to the global framework of development with inclusivity and relevancy", said Dr. Aquino.
Guizhou Minzu University holds a distinctive reputation as one of China's pioneering institutions, with a focus on minority-oriented education. Endorsed by both the People's Government of Guizhou Province and the State Commission for Nationalities, the university stands committed to transcending educational barriers. Notably, its recognition by the Ministry of Education for hosting international students through the Chinese Government Scholarship Program underscores its global educational prowess.
The China-ASEAN Cooperation Week 2023 is hosted by the Ministry of Foreign Affairs, the Ministry of Education of the People's Republic of China, and the People's Government of Guizhou Province and will run from August 28 to September 2, 2023.