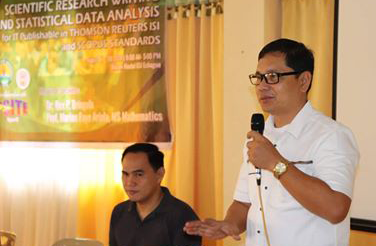 The College of Computing Studies, Information and Communication Technology (CCSICT) initiated today, August 17, 2018, the conduct of Seminar-Workshop on Scientific Research Writing and Statistical Analysis at Biazon Hostel.
The said undertaking was the result of the forged Memorandum of Understanding (MOU) between Isabela State University (ISU) and University of the East (UE) in which both Universities will allow human resources exchange and capacitate the faculty members and staff through providing workshops.
As mentioned by Dr. Ricardo Q. Camungao, Associate Dean of CCSICT, one of the mandates of being a recognized Center of Development (COD) Program is to strengthen the research outputs of the college since CCSICT is already recognized as COD. This is the reason why CCSICT initiated the said activity.
Dr. William R. Eustaquio, Executive Officer of ISU-Echague Campus, encouraged the participants to come up with researches which can be beneficial to the University and the society. "Let us create impact to the society through researches that can be commercialized," he said.
On the other hand, Dr. Ricmar P. Aquino, University President, emphasized the role of research in the State Universities and Colleges (SUCs) levelling as this is one of the criteria set by the Commission on Higher Education (CHED). Dr. Aquino also challenged the participants to come up with researches which can be utilized after the publication. "There must be outputs that could create impact to the lives of the people… that is the ultimate goal of research," he mentioned. Moreover, Dr. Aquino said that awards in the research field are useless when such researches do not generate outputs that can be utilized. "It is the utilization that matters the most," he added.
The seminar-workshop was set until Sunday, August 19, 2018, in which Prof. Marion Faye Ariola of ISU and Dr. Rex P. Bringula of UE served as the resource speakers.