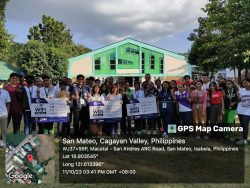 Isabela State University- San Mateo Campus is now a Free Wi-fi zone!
Students from ISU San Mateo Campus can now avail free and accessible internet access within campus premises thru the "Free Wi-fi for All" project of the Department of Information and Communications Technology (DICT).
The project looks to the objective of establishing 9,762 supplementary locations in public spaces and 162 locations within state universities and colleges by the conclusion of 2023.
The ISU Wi-fi Zone project resonates with the goal of providing quality education (SDG 4) in a highly technological era, as students will gain better access to more online learning resources relevant to their academic activities.
-ISU San Mateo Tangguyob Correspondent