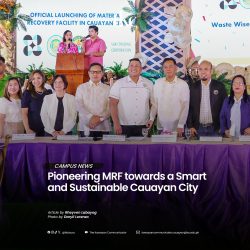 The Isabela State University-Cauayan City Campus (ISU-CCC), in collaboration with the Local Government Unit (LGU) of Cauayan City, the Department of Science and Technology (DOST), and Suki Trading Corporation, an industry partner, launched the first of its kind Material Recovery Facility (MRF) in the region to address the growing concerns in the country's waste management and the rapid rise of solid waste generation in Cauayan City, held at Isabela Convention Center (ICON) on October 19.
Cauayan City cemented itself as the Ideal City of the North; however, issues in waste management have hindered its long-term viability as an Innovative City of the North, resulting in the tripartite agreement between and among LGU, ISU-CCC, and DOST to implement MRF as a vital initiative towards sustainable waste management.
Thus, the proposed detailed research and development project of Dr. Precila C. Delima, the campus' Executive Director, entitled: "Establishment of Material Recovery Facility (MRF) in Cauayan City: Road to a Sustainable Integrated SWM [Solid Waste Management] Program," marked a significant step toward a more sustainable city by promoting a circular economy and aiming to reduce waste aligning with the United Nations' (UN) Sustainable Development Goals (SDGs).
The MRF will function as a central facility for gathering, categorizing, and recycling various waste materials such as plastics, paper, glass, and metals, serving not only the City of Cauayan but also the LGUs within the broader Metropolitan Cauayan area, which encompasses the cities and municipalities of Isabela's 6th District.
Furthermore, MRF also aims to create job opportunities for the local community and stimulate economic development.
The aforementioned project is committed to achieving its program title: "Waste-Wise Cities for Sustainability: The Case of Cauayan City", establishing its reform while simultaneously contributing to the SDGs and making Cauayan City truly a smart and sustainable city.
The launch of the MRF was graced with messages of support from key figures, including Engr. Sancho A. Mabborang, the Regional Operations Undersecretary of DOST; Hon. Caesar "Jaycee" S. Dy, Cauayan City Mayor; and Dr. Ricmar P. Aquino, ISU President.
To formally inaugurate the MRF, a symbolic ceremonial button press marked the official start of the project.
—-
ISU CMS with Rheyven Labayog, ISU Cauayan Kawayan Communicator Correspondent.