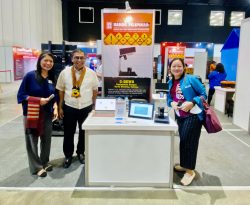 Pasay City, Philippines – The World Trade Center came alive with groundbreaking innovations and ingenious projects as the highly anticipated HANDA Pilipinas Exposition on Disaster Risk Reduction and Management (DRRM) kicked off its Luzon Leg on July 27-29. Organized by the Department of Science and Technology (DOST), the event drew together brilliant minds from the scientific community, showcasing the latest advancements in disaster preparedness, response, rehabilitation, and recovery under the theme "Risk Reduction in Megacities."
One of the highlights of the exposition was the "C-DEWS: Community Dengue Early Warning System," a revolutionary project presented by the Business Intelligence Research and Development Center (BIRD-C) of Isabela State University. Funded by the Department of Science and Technology (DOST), Philippine Council for Health Research and Development (PCHRD) on June 1, 2021, this project aims to combat dengue using deep learning technology to identify mosquito eggs on a special glass with a mosquito attractor. Collaborating with local government units city health office, and weather stations, C-DEWS delivers timely warnings and real-time platform used for providing sanitation measures to prevent the spread of dengue.
The C-DEWS system operates on an enhanced ovicidal larvicidal (OL) trap utilizing Internet-of-Things (IoT) technology. It allows for remote monitoring of aedes aegypti eggs using the IoT-based OL trap device status through the online C-DEWS platform. The collected egg counts are transmitted to local government unit through a web-based monitoring system, the technology also includes a mobile app push notification system for captured dengue eggs.
With features such as early detection of potential dengue outbreaks, timely and effective response strategies, a basis for community sanitation activities, community engagement, and a sustainable, scalable solution, C-DEWS has emerged as a game-changer in combatting dengue.
HANDA Pilipinas continued to captivate attendees, embodying the nation's unwavering commitment to disaster resilience. By uniting experts and researchers in this three-day event, the Philippines displayed its dedication to creating a safer and more prepared nation in the face of natural disasters.
—-