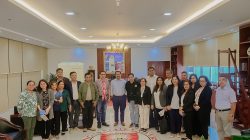 BATANGAS CITY, PH —Venturing into a viable partnership in South Luzon fills the theme of the benchmarking visit of Isabela State University at Batangas State University (BatStateU) this Wednesday (March 08).
ISU delegation led by University President Dr. Ricmar P. Aquino is at Batangas for a two-day benchmarking visit for the Knowledge, Innovation, Science and Technology (KIST) Park, the key areas of operations for the QS Stars Application, and best practices on implementing academic programs among other institutional thrusts.
The visit would propel ISU's recent application for the establishment of a KIST Park through its partnership with PEZA as it looks to the best practices of BatStateU being the pioneer university in the country to implement the KIST Park.
BatStateU President Dr. Tirso A. Ronquillo expressed his regard to the visit of ISU, affirming the knowledge-sharing venture for the two institutions.
"We have our own niche area, you also have your own. And in the two days of our conversation, I'm certain that we can be able to engage something so that our two universities will be positioned better", told Dr. Ronquillo in his message.
He also views the visit of ISU as means for BatStateU to be complemented also from the synergy of best practices coming from both institutions.
"This is now the paradigm of learning. What we are doing now is actually immersion in that we are actually immersing ourselves to you. I see a bigger room for improvement for our two universities".
Ronquillo cues for a promising collaboration, saying the institutions "should start something" that will induce development for the two universities even if their terms as presidents expire.
The BatStateU President went on to share his impression on the promising plight of ISU under the leadership of Dr. Aquino to become a "premiere university in the north", in which he ensured of BatStateU's support to ISU's vision as he said "we, together, envision it to be- here at BatStateU".
Meanwhile, ISU President Dr. Aquino returns a nod for the collaboration. He said in his message, "we really appreciate the President for allowing us to come and maybe later have a lasting partnership with Batangas State University".
"All our campus heads are here with me to benchmark Batangas State University because we believe that BatStateU is the best partner in the country today", he furthered.
Aquino expressed that the two institutions could work in expanding ISU's niche on agriculture.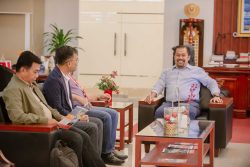 "Since you are very good in engineering and technology, ISU- although we are considered as a comprehensive university- our niche in the region is agriculture. In our benchmarking activity, we would like to find out how your engineering could help our agriculture", told Dr. Aquino.
Although ISU has submitted its proposal to CHED for the implementation of a new program on Smart and Precision Agriculture, Dr. Aquino believes that a promising venture with BatStateU will advance the agricultural program of ISU alongside its attached disciplines.
"Your engineering program here could extend some assistance to us, maybe a program that could be both offered by BatSu and ISU through a double logo program, that is leading to maybe agriculture but with some kind of fusion of engineering and technology subjects", said Dr. Aquino.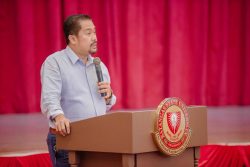 The ISU President also thanked Dr. Ronquillo, who at the same time is serving as the President of the Philippine Association of State Universities and Colleges or PASUC, for last year's implementation of the NBC 8th Cycle which upscaled the roster of faculty members in ISU as well as other SUCs in the country.
Another initiative of the PASUC to which Dr. Aquino noted was the new Revised Organizational Structure and Staffing Standards for SUCs (ROSSSS) which provides new plantilla items for SUCs to augment higher education services with the continuously growing trends of organizational competency and public service.
For ISU, Dr. Aquino said there will be 240 plantilla items for the first tranche of ROSSSS implementation.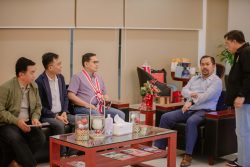 An advanced invitation was extended to ISU for the 120th Founding Anniversary of BatStateU on April 2023 which also comes with the celebration of their 1st Anniversary being a National University for Engineering. (GZ/JF-UMIS-CMS)