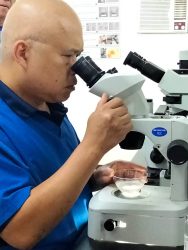 The Isabela State University through the Cagayan Valley Small Ruminants Research Center took another step in R&D to continuously bring quality animal genetics in the countryside.
With the support from the DOST Balik Scientist Program and DOST-PCAARRD, an expert on embryo transfer from Australia is currently conducting a training to capacitate local researchers on this particular artificial breeding technique. With embryo transfer, we can both maximize the superiority of male and female animal breeders and improve the rate of genetic improvement.
The DOST-BSP Expert is Dr. Miguel Mervin Pajate, a veterinarian and an embryologist. At present, he works with commercial breeder farms of small ruminant in Australia in terms of artificial breeding services. His engagement with ISU aims to apply the same technique in the Philippines by developing a protocol suitable to the Philippines condition.
The local researchers who will be trained under the supervision of Dr Pajate is expected to learn and develop skills on embryo flushing, embryo grading, cryopreservation and embryo transfer.
The team is composed of veterinarians from the ISU- School of Veterinary Medicine (SVM), researchers and laboratory technicians from ISU- College of Agriculture (CA) and CVSRRC, and Quirino State University (QSU).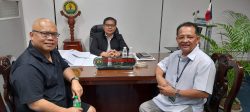 Aside from these skills, the team is also expected to understand the importance of animal selection, nutrition management and recording as these factors will have play an important role to attain high success rate.
Joining the team are representatives from the National Dairy Authority- North Luzon, which is considered as partner agency when the technology is
being promoted and applied in the communities.
This initiative is led by Dr. Jonathan N. Nayga, the Dean of ISU-CA and the Director of ISU-CVSRRC. (ISU-UMIS-CMS with Ms. Aubrey Joy Balbin, ISU-Cagayan Valley Small Ruminants Research Center Faculty-researcher)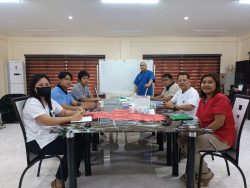 ---
Related Story: Country's First Embryo-transfer Tech gears preliminaries at ISU
Philippines is set to pioneer embryo-transfer technology at Isabela State University through the management of Balik Scientist Dr. Miguel S. Pajate.
Dr. Pajate is an expert veterinarian based in Dubbo, New South Wales, Australia who is now in the Philippines as Balik Scientist assigned at ISU's Cagayan Valley Small Ruminant Research Center (CVSRRC), the same R&D center which revolutionized goat meat technology and processing, and pioneered Cagayan Valley's Signature Goat breed "CV Goat".
The embryo-transfer technique will add to the roster of innovations in advancing the breed of CV Goat at CVSRRC through the project "Innovative Systems in Advancing Technology-based Goat Production" funded by the Philippine Council for Agriculture, Aquatic, and Natural Resources Research and Development of DOST (DOST-PCAARRD).
This tech upgrade allows the acquisition of genetic materials from a superior animal and be transferred to an inferior animal as a surrogate. The process hastens the improvement of genes than in a natural mating, which according to Dr. Pajate, pure-breed goats can be produced as early as next year. The embryo could last up to 40 years at frozen state and remain suitable for pregnancy.
Dr. Pajate has a master's degree in Tropical Veterinary Science from James Cook University and a Postgraduate Certificate in Small Animal Practice from Murdoch University. (GZ/JF-UMIS-CMS)
Featured Story from DOST-PCAARRD: https://bit.ly/3XlU8BL
Published 09Feb2023 | by Michelle Caparas and Jesselle Laranas, DOST-PCAARRD S&T Media Services